Bears back on track
Redcar SG Petch Bears returned to winning ways on Thursday night, with a convincing 61-32 victory over the Scunthorpe Scorpions at the Media Prima Arena.
After last weeks defeat to the Peterborough Panthers, the Bears needed a win to get their play off chances back on track and they started off tonight in electric fashion. Four 5-1s and a 4-2 in the opening 5 races saw the Bears take a 24-6 lead and they never looked back. It was a dominating performance by the Bears, and although Lewis Kerr took the chequered flag whilst wearing the black and white helmet, Scunthorpe never looked like getting back into the meeting.
All 7 Bears recorded at least a paid win on the night, with only 1 last place all meeting. Ben Barker was the star of the show, recording a paid 18 point maximum and earning himself the rider of the night award. It was another impressive night from Jonas B Andersen, with the popular Dane scoring 14 and Ellis Perks continued his good form with 9+4. Coty Garcia also had a good night on what might be his last home meeting as a Bear, with promoter Kevin Keay announcing Tobias Busch hopes to be back at some point next week to replace the Argentine who has become a crowd favourite.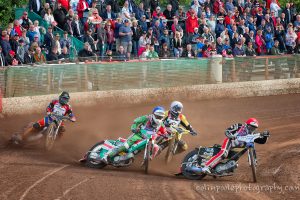 For Scunthorpe, Lewis Kerr provided good resistance with 13 points but the rest of the Scorpions found points tough to come by against a determined Bears side. The Bears are next in action away at Peterborough on Sunday, but there is some action at the Media Prima Arena this Saturday. The latest round of the British Youth Championship takes place at 2pm, with admission just £1 to see over 50 heats of racing. We hope to see as many of you as possible to see the future of British Speedway. 
Redcar Bears = 61
1. Aaron Summers (G) – 3, 2, 1′, 1 = 7+1
2. Charles Wright R/R (BB – 2′, DA – 1′, EP – 3, JBA – 2)
3. Jonas B. Andersen – 3, 3, 2, 2, 3, 1 = 14
4. Ellis Perks – 2′, 2′, 3, 1′, 1′ = 9+4
5. Ben Barker – 2′, 3, 2′, 3, 3, 3 = 16+2
6. Coty Garcia – 3, 3, 1, 2 = 9
7. Danny Ayres – 2′, 1, 1′, 2′, 0 = 6+3
8. Carl Basford – DNR
Scunthorpe Scorpions = 32
1. Michael Palm Toft – 1, 1, 2, 2, 0 = 6
2. Carl Wilkinson – 0, R, 1, 0 = 1
3. Josh Auty – 1, 1, 3, 1′ = 6+1
4. Ryan Douglas – 0, FX, FX, 3 = 3
5. Lewis Kerr – 2, 3, 6^, 0, 2 = 13
6. Tero Aarnio – R, 0, 0, 2 = 2
7. Josh Bailey – 1, 0, 0, 0 = 1