Bears beat Tigers in thriller!
Redcar SG Petch Bears ended Sheffield Tigers 13 match winning run wit ha 48-42 win at the Media Prima Arena on Friday, but it did come at a cost!
On an eventful evening, Sheffield started the brighter of the two sides, and indeed after heat 8 had taken a 6 point lead. Heat 9 then saw drama, as Jason Garrity fell and then seemed to be hit by Kyle Howarths bike who was right behind him. Jason took a blow to his shoulder, and after treatment from the medics was forced to withdraw from the meeting and take a trip to hospital.
The Bears closed the gap slightly, and going into heat 13 were 4 points behind. In the first running of this heat, Kyle Howarth was excluded for knocking off Ben Barker. Barker picked himself up to finish behind Charles Wright for a Bears 5-1 in the re-run. He then spent some time with the medics, and it has emerged since the meeting he has a potential wrist injury.
Heat 14 saw the Bears take the lead with Tobias Busch and Jonas B  Andersen getting a 5-1 over Ryan Douglas and Jan Graversen, and they finished off wit ha 4-2 in heat 15 with the superb Charles Wright taking the victory and Barker coming home in third. A superb nights racing a superb comeback from the injury hit Bears to beat arguably the best team in the league.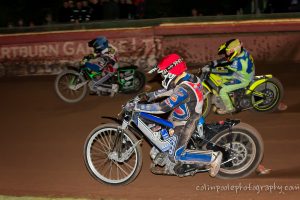 Redcar Bears = 48 
1. Ben Barker – 3, 3, 3, 2′, 1 = 12+1
2. Ellis Perks – 0, 0, 1 = 1
3. Jason Garrity – 0, 3, Ex WITHDRAWN = 3
4. Jonas B. Andersen – 1, 2′, 3, 2′ = 8+2
5. Charles Wright – 2, 3, 3, 3, 3 = 14
6. Tobias Busch – EF, 1, 2, 3 = 6
7. Danny Ayres – 3, 0, F, Ex, 1, 0 = 4
Sheffield Tigers = 42 
1. Josh Grajczonek – 2, 1, 2, 1 = 6
2. Todd Kurtz R/R – (JGrav1′)(GW0)(RD2′)(JGrav0) = (3+2) 
3. Lasse Bjerre – 3, 2, 2, 3, 2 = 12
4. Ryan Douglas (G) – 2′, 1′, 0, 1 = 4+2
5. Kyle Howarth – 3, 2, 2, Ex, 0 = 7
6. Jan Graversen – 1′, 2, 1′, 3, 0, 1, 0 = 8+2
7. Georgie Wood – 1′, 1, 0, 1′ = 3+2