Wright wins Silver Helmet
On a wet night at the Media Prima Arena, home favourite Charles Wright took a well deserved victory as he won the Teesside Silver Helmet on Thursday night.
On what had been a nice day on Teesside, a heavy downpour an hour before the start of the meeting, and some drizzle throughout the first 8 heats contributed to a tricky surface for the start of the meeting. Terry the Track and his staff did a superb job to get the meeting on, and full credit to every single rider who got on with the meeting with no complaints to put on a good show for the crowd.
Despite the tricky conditions there was still some excellent action on track, with Paul Starke, Charles Wright and Ty Proctor impressing early on.  Bears asset, and popular Dane Jacob Bukhave was perhaps the surprise of the night – riding superbly for his 9 points and only missing out on the semi final on racewins. He surely put himself in the shop window for next season. Ellis Perks also finished on 9 and also just missed out on the semi final but it was another good night for the young Brit. 
After the completion of the qualifying heats, Richard Lawson and Charles Wright qualified directly to the final which left Aaron Summers, Ty Proctor, Paul Starke and Ryan Douglas in the semi final. Summers was clear in front, with Proctor and Douglas having a great battle for second spot. The Scunthorpe man Douglas made a great pass up the inside of Proctor, and as Proctor attempted to re-pay the favour he clipped his fellow Aussie causing him to fall. Paul Starke was following close behind and did well to miss the stricken Douglas, but the incident caused ex-Bear Proctor to be excluded with Summer and Douglas moving to the final.
In the final, Wright gated superbly and whilst Summers and Lawson chased him hard there was no catching the Bears man who took a deserved win.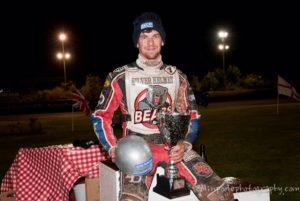 The Bears are next in action away to Glasgow on Saturday, before travelling to Newcastle on Sunday and Sheffield on Monday.
1. Charles Wright – 3, 3, X, 2, 3 = 11 + 3 = 14 WINNER
2. Scott Nicholls – 2, 2, R, 2, 3 = 9
3. Aaron Summers – R, 3, 3, 2, 2 = 10 + 2 = 12 SECOND
4. Ellis Perks – 1, 3, 1, 3, 1 = 9
5. Ben Barker – 3, 1, 1, 1, 2 = 8
6. Joe Jacobs – 0, 0, 1, 1, 0 = 2
7. Jacob Bukhave – 2, 2, 2, 1, 2 = 9
8. Ben Morley – 1, 2, 1, 0, 0 = 4
9. Ashley Morris – 0, 0, 2, 0, 1 = 3
10. Ty Proctor – 3, 3, 0, 3, 1 = 10
11. Coty Garcia – 1, 0, 3, 1, 0 = 5
12. Ludvig Lindgren – 2, 1, 2, 0, 1 = 6
13. Richard Lawson – 1, 2, 3, 3, 3 = 12 + 1 = 13 THIRD
14. Ryan Douglas – 2, 1, F, 3, 3 = 9 + 0 = 0
15. Paul Starke – 3, 1, 3, 2, 2 = 11
16. Kevin Doolan – 0, 0, 2, 0, NS = 2
17. David Wallinger – 0 = 0
18. Shelby Rutherford –