Great turn out for Hugh Farewell
There was a massive turn out at the Bears Bar on Thursday evening to say goodbye to former two times Bear of the Year Hugh Skidmore and his family.
Infact the attendance was so large emergency rations had to be sent for as the Pie 'n' Peas ran out.
The crowd were entertained to stories by Hugh of his years as both a Bear and a Tiger at Sheffield plus his plans for the future back down under.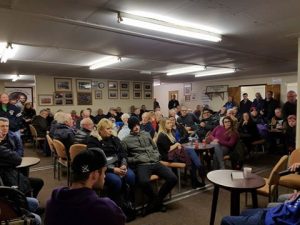 Fans were also kept updated to the latest club news from both team manager Jitendra Duffill and promoter Kevin Keay as Kevin revealed a very welcome sponsorship deal had been struck with long time backer Keith Miller of Ecco Finishing supplies who will sponsor the pit area and also back the junior side, the Cubs, in their assault on the Northern Junior League. Ecco will also back the season long second half racing in a Grand Prix style format to encourage more competitive racing for the Bears stars of the future.
Stand by for more sponsorship news coming shortly.