Busch is hot on Ice
Redcar Bears Tobias Busch concludes his first season of ice racing this weekend when he lines up as reserve in round four of the World Championship buoyed by a sensational fourth place in the German title race on Thursday night.
Tobi, 28, was among the least experienced of the 16 competitors at the Horst-Dohm Eisstadion in Berlin, yet only missed out on a podium placing by two points.
The rider who became an instant fans favourite after signing for the SG Petch Bears midway through last season, needed to finish second in the last of his five rides to earn a run-off for the bronze medal with Marcus Jell.
But unbeaten Max Niedermaier, who took the title with a 15-point maximum, and Jell both led Tobi home in the 20th and final race.
That left Tobi on 11 points but with the satisfaction of finishing ahead of Luca Bauer, who was controversially awarded a wild-card entry for the two-day World Championship meeting in preference to the Redcar racer.
Tobi is one of only two survivors from last season's Bears line-up and will now begin his preparation for the summer season on Teesside which begins with the Julie Lewis Memorial Trophy on Thursday, March 30th.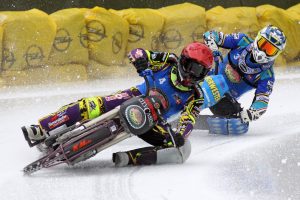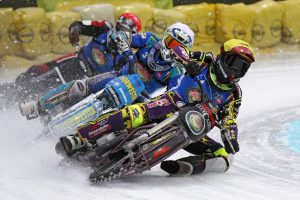 GERMAN ICE SPEEDWAY FINAL, Berlin (German unless stated)
Max Niedermaier (3,3,3,3,3) 15,
Hans Weber (3,3,2,3,3,) 14,
Markus Jell (2,3,3,3,2) 13,
Tobias Busch (2,3,2,3,1) 11,
Sebastian Gegenbauer (2,2,3,2,1) 10,
Luca Bauer (3,2,1,3,0) 9,
Jonas Andersson (Sweden) (1,fd, 2,2,3) 8,
Simon Reitsma (Netherlands) (0,2,1,1,3) 7,
Franz Marebuchler (2,1,1,1,2) 7,
Bart Schaap (Netherlands) (1,1,2,0,2) 6,
Jasper Iwema (Netherlands) (0,1,2,2,1) 6,
Gunter Bauer (3,D,N,N,N) 3,  
Reinhard Greisl (0,0,0,1,2) 3,
Albin Lindblom (Sweden) (1,2,0,0,0) 3,
Erwin Schuster (Austria) (1,R,0,1,1) 3
Article courtesy of Keith McGhie and The Gazette, pictures copyright of LS-PHOTO