Bears fall to KO Cup defeat
Redcar SG Petch Bears failed to progress in the KO Cup after losing 44-46 to the Peterborough Panthers on Thursday evening, meaning a 83-95 defeat on aggregate.
Peterborough started strongly on the night, and after 3 heats led by 10 points on the night and the Bears never really recovered. 
Despite the defeat, there were still some positives for the Bears however with Jason Garrity and in particular Ben Barker pulling out some impressive rides. Heat 11 was a great example of this, with Barker and Jack Holder passing and repassing before Barker took the win on the last bend. Heat 13 and Heat 15 also saw some great racing with Garrity and Barker getting 5-1s in both heats. Barker top scored for the Bears with 13+1 with Garrity supporting well with 12+1.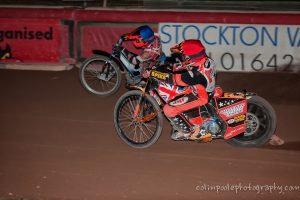 For the Panthers, captain Ulrich Ostergaard top scored with 11 points, with the impressive Paul Starke scoring 10+2. 
The Bears are next at home against Ipswich in Championship action next Thursday, and also face Scunthorpe this Sunday at Scunthorpe.
Redcar Bears = 44 (83)
1. Jason Garrity 2, 2, 3, 2*, 3 = 12+1
2. Coty Garcia R, 0, 0, = 0
3. Charles Wright 0, 3, 3, 1 = 7
4. Jonas B. Andersen 1, 1, 2*, 2 = 6+1
5. Ben Barker 3, 2, 3, 3, 2* = 13+1
6. Richard Hall 1, 1*, 0, 0, 1* = 3+1
7. Josh Bailey (G) FX, 2*, 1, 0 = 3+1
Peterborough Panthers = 46 (95)
1. Jack Holder 3, 2, 2, 1 = 8
2. Simon Lambert 1, 1, 0, 3, 1* = 6+1
3. Paul Starke 2*, 3, 0, 1*, 3, 1 = 10+2
4. Ulrich Ostergaard 3, 3, 0, 2, 3, 0 = 11
5. Kenneth Hansen R/R 
6. Nike Lunna (G) 3, 1, 2*, 1, 2*, 0 = 9+2
7. Tom Bacon 2*, FX, 0 = 2+1