Bears dominant in Derby Win
Redcar SG Petch Bears continued their impressive start to the season with a dominant 58-34 win over local rivals the Newcastle Diamonds at the Media Prima Arena on Thursday night.
With the afternoon showers, the track was slightly tricky at the start of the meeting and a good start was going to be crucial. At the second time of asking in heat 1, the Bears notched a 5-1 and never looked back.
The impressive Ellis Perks won heat two on his way to a career best 15+2 score, the day after reaching the Semi Finals in the British U21 Final at Poole. After a few heats the track settled down nicely and the big crowd were delighted to see some excellent racing. Heat 12 was a particular highlight, with at one point Lewis Rose, Charles Wright and Ellis Perks going down the home straight three abreast before the Bears two pulled away.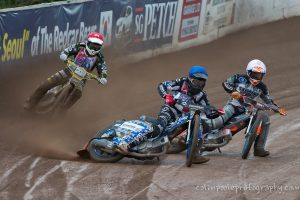 Heats 13 and 15 again provided excellent entertainment, with the dynamic duo of Jason Garrity and Ben Barker again scoring 5-1s in both heats. Garrity ended the night with 13+1, and Barker 10+2. 
Bears promoter Kevin Keay was understandably delighted with the performance:
Fantastic result, great effort from all the lads to make sure we didn't give them a chance of a league point. Ellis was superb and showed what a prospect he is. We go to Workington now full of confidence.
The Bears are next in action on  Saturday night, as they travel to Workington in Championship action.
Redcar Bears = 58
1. Jason Garrity – 3,3,1*,3,3 = 13+1
2. Fernando Garcia – 2*,1,0,(EP-2) = 3+1
3. Charles Wright – 1,2*,2,3 = 8+1
4. Jonas B Andersen – 3,3,1*,1 = 8+1
5. Ben Barker – 3,1,2,2*,2* = 10+2
6. Richard Hall – 1,0,0,(EP-3) = 1
7. Ellis Perks – 3,2*,3,2,2*,3 = 15+2
Newcastle Diamonds = 34
1. Robert Lambert – 1,EF,1,1 = 3
2. Ashley Morris – FX,FX,2,3 = 5
3. Lewis Rose – 0,3,0,1 = 4
4. Ludvig Lindgren – 2,2*,3,2,0 = 9+1
5. Steve Worrall – 1,2,6^,0,1 = 10
6. Connor Coles – 2,0,0,0 = 2
7. Danny Phillips – R,0,1*,0 = 1+1