Bears lose 100% home record
Redcar SG Petch Bears battled hard, but fell to a 48-42 defeat to the Workington Comets at the Media Prima Arena on Thursday night.
The Comets came to Teesside full of confidence, and with a side full of riders who ride the Media Prima well and proved just too strong for the Bears on the night. Team GB international Craig Cook led the Comets superbly with 13 points, with great support from ex Bear Ty Proctor and Matt Williamson.
For the Bears, Ben Barker was again excellent and top scored with 14 points, only losing out to Craig Cook in the final heat. Jason Garrity gave good support with 10+1 and Jonas B Andersen scored 7. 
The meeting started with Workington getting their noses in front early, giving themselves a four point lead after 5 heats. Despite getting heat wins through Barker and Garrity, the Bears struggled to fill the minor places meaning heat advantages were hard to come by and the Comets retained a lead throughout the meeting. A Comets 5-1 in heat 12 through Proctor and Williamson pretty much sealed the victory for the Cumbrians, despite the 'Suicide Squad' efforts of Barker and Garrity in heats 13 and 15.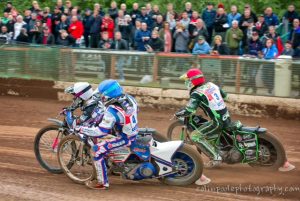 The Bears are next in action on Thursday 25th May, at home against the Scunthorpe Scorpions.
Redcar Bears = 42
1. Jason Garrity – 2,3,3,1,1* = 10+1
2. Fernando Garcia – 0,0,2,1 = 3
3. Charles Wright – 0,2,1*,F = 3+1
4. Jonas B Andersen – 2,0,2,3 = 7
5. Ben Barker – 3,3,3,3,2 = 14
6. Richard Hall – 2,0,0,0,0 = 2
7. Tom Bacon (Guest) – 1*,1,(RH-0),1 = 3+1
Workington Comets = 48
1. Craig Cook – 3,3,2,2,3 = 13
2. Mason Campton – 1,1,3,1* = 6+1
3. Ty Proctor – 3,2,2,3,0 = 10
4. James Sarjeant – 1,1*,0,2 = 4+1
5. Thomas Jorgensen – 2,2,3,0 = 7
6. Matt Williamson – 3,1*,1,(RS-0),2*,1* = 8+3
7. Robert Shuttleworth – 0,0,(MW-1),0,(MW-1*) = 0