Bears take the spoils in Berwick!
Redcar SG Petch Bears picked up where they left off on Thursday, with a 50-34 win at Berwick in an eventful meeting on Saturday night.
The Bears were back to full strength for the meeting, with Ben Barker declaring himself fit after missing the meeting on Thursday. 
Redcar started the meeting strongly, and after 4 heats were 4 points up with two wins from Ellis Perks and a win for Jason Garrity, on his way to full maximum of 12.
By the start of heat 9, this lead had increased to 6 but heat 9 was certainly an eventful one! David Howe unfortunately crashed, and the cut-out on the bike appeared to not work as the bike kept on running. Danny Ayres took a whack to the head, and a safety marshal was also injured attempting to get the bike to stop running. Both Ayres and Howe were withdrawn from the meeting after the clash, with the marshal also needing treatment. Our best wishes go to all 3 for a speedy recovery. 
With Lee Payne also withdrawn from the meeting injured, the Bandits were no up against it and the Bears did not let up the pressure as they continued to get heat advantages. The meeting was called to a premature end after heat 14 due to the curfew being reached, meaning a 50-34 win and all 4 league points for the Bears.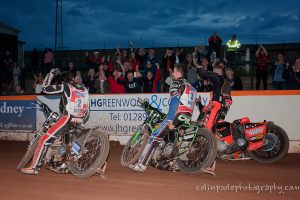 The Bears are next in action at home on Thursday against the Glasgow Tiger.
Berwick Bandits = 34
1. Nick Morris – 2, 3, 2, 2 = 9
2. David Gappmaier – 0, 1, 0, (JPB – 0) = 1
3. David Howe – 3, 1′, F/X, N = 4+1 (Withdrawn)
4. Lewis Bridger – 2′, 2, 3, 3 = 10+1
5. Kevin Doolan – F, 3, 2, 0 = 5
6. Jack Parkinson-Blackburn (Guest) – 2, 0, 1, 0, 0, 1, 0 = 4
7. Lee Payne – F/X, 1, (JPB – 1, JPB – 1) = 1 (Withdrawn)
Redcar Bears = 50
1. Jason Garrity – 3, 3, 3, 3 = 12
2. Coty Garcia – 1, 0, 3, 1 = 5
3. Charles Wright – 1, 1′, 3, 3 = 8+1
4. Jonas B Andersen – 0, 2, 1, 1′ = 4+1
5. Ben Barker – 2′, 2, 2, 1 = 7+1
6. Danny Ayres – 1, 0, 1′ (withdrawn) = 2+1
7. Ellis Perks – 3, 3, 2′, 2′, 2 = 12+2