Injury hit Bears in comfortable Derby win
Injury hit Redcar SG Petch Bears ran out comfortable 55-37 winners against the Newcastle Diamonds at the Media Prima Arena on Thursday night.
The Bears went into the meeting without four of their normal starting lineup, but the 3 Bears and 3 guests put on a superb performance to give Redcar the 3 points on the night. After an opening heat 3-3. the Bears took a 5-1 in heat two thanks to Coty Garcia and guest Liam Carr and never looked back. Robert Lambert and Steve Worrall provided good resistance for Newcastle, but the Geordies only heat advantage came in heat 15 when Lambert and Ludvig Lindgren recorded a 5-1 with the meeting already over.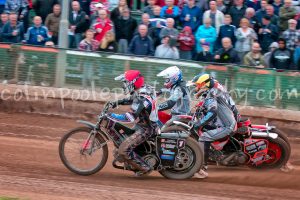 For the Bears, guest Ulrich Ostergaard top scored with 12+, but it was truly a team effort with all riders getting at least a paid win. Captain for the night Ben Barker scored 11+2 with Jonas B Andersen scoring 10+2. Barker produced the right of the night in heat 7, after making a mess of bend two he was stone last but produced two great passes to get by Lindgren and Lewis Rose for a fine second place.
Bears promoter Kevin Keay was delighted with the win, and heaped praise on Jitendra Duffill:
Jitendra showed what a good team manager he can be with a great selection of well motivated guests tonight. I expected a much closer scoreline but all 6 riders contributed to a convincing win and lifted the clubs' spirits after a difficult period of late
The Bears are next in action at home next Thursday, when league leaders the Edinburgh Monarchs visit the Media Prima Arena.
Redcar Bears = 55
1. Thomas Jorgensen (G) – 0, 2, 3, 2′, 2 = 9+1
2. Jonas B. Andersen – 3, 1, 1, 2′, 3 = 10+1
3. Charles Wright R/R (JBA – 1, TJ – 2, BB – 1′, UO – 3)
4. Ulrich Ostergaard (G) – 3, 1′, 2, 3, 3, 0 = 12+1
5. Ben Barker – 2, 3, 1′, 3, 1′, 1 = 11+2
6. Coty Garcia – 3, X, 3, 1, 2′ = 9+1
7. Liam Carr (G) – 2′, 1′, 0, 1 = 4+2
Newcastle Diamonds = 37
1. Robert Lambert – 2, 3, 4^, 3, 3 = 15
2. Ashley Morris – 1′, 0, 1, 0 = 2+1
3. Lewis Rose – 0, 2, FX, 2 = 4
4. Ludvig Lindgren – 2, 1′, 1, 1, 2′ = 7+2
5. Steve Worrall – 3, 2, 3, F = 8
6. Dan Greenwood – 0, 0, 0, 0 = 0
7. Ben Hopwood – 1, 0, 0, 0 = 1