Dominant Bears in away win
Redcar SG Petch Bears kept their good run of form going by beating Berwick 52-40 at Shielfield Park last night in front of a good number of travelling fans.
Charles Wright top scored for the Bears with 12, but it was a solid effort throughout the side with only 3 last places out of the 15 heats. Ben Barker was his spectacular self, with a great pass of Dany Gappmaier, on his way to 10+1. Jonas B Andersen also kept his good form up with a solid 9+1 – although this did include a horror crash in heat 11 with Berwicks Jye Etheridge. Jonas and Jye clashed going into the first bend, with both riders coming off hard and into the safety fence. Both ambulances were soon on track to treat the riders, with Jonas luckily being able to walk away after some treatment. Jye was not so lucky, and had to take a trip to hospital in the County ambulance. We are pleased to report today though, that Jye has escaped any serious injury and has suffered only severe bruising.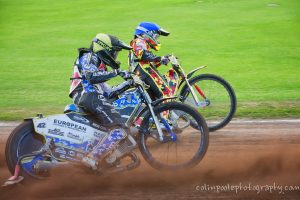 The Bears are next in action away at Sheffield on Thursday, with the return meeting at home on Friday.
Berwick Bandits = 40
1. Josh Grajczonek (G) – 3 3 2 3 = 11
2. Joe Jacobs – 0 0 2 1′ = 3+1
3. Dany Gappmaier – 2 0 1′ 0 = 3+1
4. David Howe – R 3 4! 3 1 = 11
5. Kevin Doolan – 2 3 2 0 3 = 10
6. Jye Etheridge – 1 0 Fn WITHDRAWN = 1
7. Alfie Bowtell (G) – 0 0 0 0 1 0 = 1
Redcar Bears = 52
1. Michael Palm Toft (G) – 1′ 2 1 1′ = 5+2
2. Jonas B Andersen – 2 1′ 3 3 = 9+1
3. Ben Barker – 3 2 3 2′ 0 = 10+1
4. Ellis Perks – 1 1′ 0 2 = 4+1
5. Charles Wright – 3 2 3 2 2 = 12
6. Coty Garcia – 2′ 1′ R 3 = 6+2
7. Danny Ayres – 3 1 1 1′ = 6+1