Bears fall to defeat against Panthers
Redcar SG Petch Bears quest for a play off place suffered a blow as the lost 52-40 to the Peterborough Panthers at the Media Prima Arena on Thursday night.
With the track being damp after a pre-meeting downpour, gating was always going to be at a premium and it was the Panthers who had their gating gloves on all night. The Bears only registered 4 heat wins all evening on what was a disappointing night for the play off chasing team. To make matters worse, a heat 7 crash between Charles Wright and Danny Ayres left both riders injured and having to withdraw from the meeting. It was a nasty looking incident, in which Wright was briefly left unconscious and Ayres suffering what appeared to be an arm injury. Our best wishes go to both riders for a speedy recovery.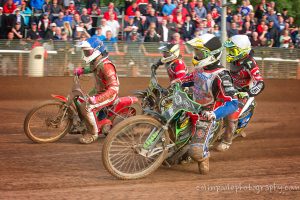 Jonas B Andersen continued his good form for the Bears, with a good 12+3 score, with Ben Barker getting 2 heat wins on his way to 9 points and Ellis Perks having another good night on his way to 7 points. For Peterborough, stand in captain Paul Starke top scored with 14 points, with excellent support from the whole team including 11 from Jack Holder and 10+3 from guest Richie Worrall.
The Bears are next in action at home against Scunthorpe next Thursday. 
Redcar – 40 – Stuart Robson 5, Jonas B Andersen 12+3, Ben Barker 9, Ellis Perks 7, Charles Wright 2 (withdrawn), Coty Garcia 2, Danny Ayres 3+1 (Withdrawn)
Peterborough – 52 – Richie Worrall 10+3, Bradley Wilson Dean 9+1, Paul Starke 14, Jack Holder 11, Liam Carr 7, Tom Bacon 1