Bears defeat Bandits
Redcar SG Petch Bears kept up their charge for a play-off spot with a 54-39 win over the Berwick Bandits at the Media Prima Arena on Thursday night.
On a night punctuated with a number of restarts, the Bears took control of the meeting early on and led by 8 after 4 heats. Heat 5 produced the heat of night, with ex-Bear Jye Etheridge taking a superb victory over Ben Barker and Jonas B Andersen. All 3 riders swapped places throughout the heat but Jye held on superbly. Sadly for Jye, and Berwick, his night was brought to a premature end after a nasty looking fall in heat 8. The young Aussie picked up some unexpected grip in the first bend and took a spectacular tumble, and left the track in an ambulance with a suspected leg injury. We all wish Jye a speedy recovery.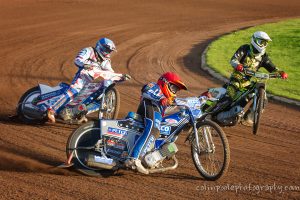 From that point the result was never in too much doubt, with the Bears heatleaders all in superb form. Skipper Ben Barker again top scored with 14, but was supported well by Wright, Garrity and Andersen with 9+2, 9 and 8+3 respectively. For the Bandits, guest Steve Worrall top scored with 12, with Etheridge scoring 8 and the evergreen Kevin Doolan with 7+1.
The Bears are next in action at home on Friday 11th against Sheffield, but of course will be competing in the Championship Fours event at Peterborough on Sunday.
Redcar Bears = 54
1. Jason Garrity – 3, 3, 0, 3, R = 9
2. Ellis Perks – 1, 0, 2, 1 = 4
3. Ben Barker – 3, 2, 3, 3, 3 = 14
4. Jonas B. Andersen – 2′, 1′, 2′, 3 = 8+3
5. Charles Wright – 3, 3, 1′, 2′ = 9+2
6. Tobias Busch – 0, 1, 2, 1 = 4
7. Danny Ayres – 2, 2′, 1′, 1 = 6+2
Berwick Bandits = 39
1. Steve Worrall (G) – 0, 0, 6^, 3, 1, 2 = 12
2. Nikolaj B. Jakobsen (DH – 2, JE – 3, SW – 6^, KD – 0)
3. Dany Gappmaier – 0, FX, 3, 2, 1′ = 6+1
4. Kevin Doolan – 1, 2, 2′, 0, 2 = 7+1
5. David Howe – 2, 1, 1′, 1, 0 = 5+1
6. Jye Etheridge – 3, 3, 2, FX = 8 WITHDRAWN
7. Jack Parkinson-Blackburn (G) – 1, F, 0, 0, 0 = 1