Bears take second in Championship Fours!
Huge congratulations go out to the Redcar SG Petch Bears who today finished second in the Championship Fours meeting at Peterborough. Jason Garrity, Ben Barker, Jonas B Andersen, Charles Wright and Ellis Perks represented the Bears in fine style all afternoon. The Bears finished second in the semi final with 13 points, finishing behind Ipswich and knocking out Newcastle, Glasgow and Berwick. Wright top scored for the Bears with 5 points in his two rides.
The final pitted the Bears with Ipswich, Sheffield and the hosts Peterborough. The Bears started the final well, with the Bears and Peterborough making the early running. After 8 heats of the final there was only 3 points separating the Panthers in first place and the Bears in second. Unfortunately the Panthers proved too strong in the final heats, led by the impressive duo of Chris Harris and Ulrich Ostergaard. It was a superb by the effort by the Bears though and a massive well done to the lads!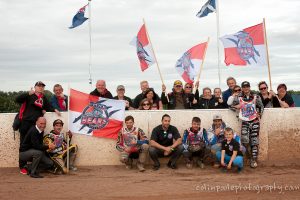 Also, big congratulations to the Peterborough Panthers on their win!
Semi Final scores:
Glasgow Tigers (G) = 9
1. Richard Lawson – 3, 0 = 3
2. Aaron Summers – 1, 2 = 3
3. Dan Bewley – 0, 0 = 0
4. Nike Lunna – 2, 1 = 3
RES. N/A
Newcastle Diamonds (N) = 12
1. Ashley Morris – F/X, 0 = 0
2. Steve Worrall – 3, 3 = 6
3. Stuart Robson – 1, 2 = 3
4. Ludvig Lindgren – 1, 2 = 3
RES. Ben Hopwood – DNR
Ipswich Witches (I) = 18
1. Justin Sedgmen – 2, 3 = 5
2. Danny King – 2, 1 = 3
3. Rory Schlein – 3, 3 = 6
4. Cameron Heeps – 3, 1 = 4
RES. Nathan Greaves – 
Redcar Bears = 13
1. Jason Garrity – 1, T/(EP – 1) = 1
2. Charles Wright – 2, 3 = 5
3. Ben Barker – X, 3 = 3
4. Jonas B Andersen – 2, 1 = 3
RES. Ellis Perks – 1 = 1
Berwick Bandits = 8
1. David Howe – 0, 2 = 2
2. Jye Etheridge – 1, T/X = 1
3. Kevin Doolan – 3, 2 = 5
4. Dany Gappmaier – 0, 0 = 0
RES. Luke Ruddick – 0 = 0
Final Scores:
Sheffield Tigers (SH) = 16
1. Josh Grajczonek – 0, 2, 3 = 5
2. Josh Bates – 2, 0, 0 = 2
3. Kyle Howarth – 1, 3, 2 = 6
4. Todd Kurtz – 1, 1, 1 = 3
RES. Jan Graversen – DNR
Peterborough Panthers (P) = 28
1. Simon Lambert – 2, 1, 2 = 5
2. Chris Harris – 3, 3, 3 = 9 MAXIMUM
3. Paul Starke – 1, 1, 3 = 5
4. Ulrich Ostergaard – 3, 3, 3 = 9 MAXIMUM
RES. N/A
Ipswich Witches (I) = 10
1. Cameron Heeps – 0, 0, 1 = 1
2. Danny King – 3, 1, 2 = 6
3. Justin Sedgmen – 1, 0, 0 = 1
4. Rory Schlein – 0, 2, 0 = 2
RES. Nathan Greaves – DNR
Redcar Bears (R) = 18
1. Charles Wright – 3, 3, 1 = 7
2. Ben Barker – 2, 0, 1 = 3
3. Jonas B Andersen – 0, 2, 0 = 2
4. Jason Garrity – 2, 2, 2 = 6
RES. Ellis Perks – DNR