Depleted Bears in dramatic win
Redcar SG Petch Bears defied all the odds to defeat the Glasgow Tigers 47-42 at the Media Prima Arena on Thursday night. The depleted Bears were missing both Charles Wright and Danny Ayres, and with Jason Garrity and Tobias Busch not quite 100% it was going to take a great effort to get the win.
The Bears started off the meeting fairly well, although after 7 heats were trailing by 8 points to a good Glasgow side. Heat 8 was arguably the turning point for Redcar. With Tom Perry already being excluded, Glasgows Nike Lunna was leading the rerun comfortably. He then hit some grip and was sent tumbling.He was excluded, and would take no further part in the meeting. The resulting 5-0 for the Bears reduced deficit to ythree and gave them real hope of getting a positive result.
Three successive 4-2s gave the Bears a three point advantage, and going into Heat 15 only a Glasgow 5-1 could prevent a Bears win. The superb Ben Barker took the chequered flag, and with partner Jason Garrity finishing third the Bears took the win. Barker top scored for the Bears with 13 with Garrity getting 12 and Tobias Busch scoring 9+1. For the Tigers, Richie Worrall and impressive starlet Dan Bewley both scored 11.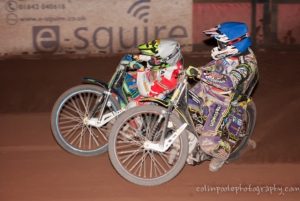 Redcar BEARS = 47
1. Ben Barker – 3, 3, 3, 1, 3 = 13
2. Ellis Perks – 0, 0, 2′, 2, 0 = 4+1
3. Jonas B Andersen, 0, 0, 1′, 3, 2 = 6+1
4. Charles Wright R/R – (TB -1 ), (JG -2 ), (EP – 2), (JBA – 2)
5. Jason Garrity – 2, 2, 1, 3, 3, 1 = 12
6. Tobias Busch – 3, 1, 0, 3, 1, 1′ = 9+1
7. Mitchell Davey (G), 1, 1′, 1 = 3+1
8. Carl Basford
Glasgow TIGERS = 42
1. Richard Lawson – 2, 3, 2, 2, 2 = 11
2. Nike Lunna – 1′, 1, F = 2+1
3. Richie Worrall – 2′, 2′, 1′, 2 = 7+3
4. Dan Bewley – 3, 3, 2, 3, 0 = 11
5. Aaron Summers – 3, 2, 3, 0 = 8
6. Tom Perry – 2, 1′, e/x, 0, 0, 0 = 3+1
7. Jack Smith – 0, 0, 0 = 0