Bears put pressure on Monarchs with comfortable win
Redcar SG Petch Bears moved into fourth place in the table, and piled the pressure on Edinburgh, with a comfortable 55-37 win over Ipswich at the Media Prima Arena on Thursday night.
Bears skipper Ben Barker was again the star of the show with a superb 16+1, but it was a solid effort from the whole side with all 6 riders scoring at least a paid win. The meeting started well for the Bears with Barker and Ellis Perks scoring a 5-1 in the first heat. Three shared heats followed before the Bears really took charge of the meeting with three consecutive 5-1s to give themselves a 16 point lead. Despite Rory Schlein winning whilst on a tactical ride, the Witches lacked the strength in depth on the night to mount a comeback and the Bears recorded another impressive win.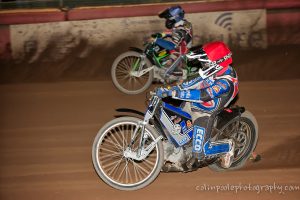 Despite the scoreline, there was some breathtaking racing from both sides. Ben Barker and Danny King produced some superb racing in heat 5, passing and re-passing each other before the Bears captain made sure of the second place on the run to the line. Heat 11 also produced a great race, with Charles Wright and Kyle Newman giving it everything before Wright just pipped Newman on the line for the win. 
The Bears now have a couple of huge away meetings in their quest for that all-important fourth place, away at Ipswich on Saturday before the trip up the a19 on Sunday to face Newcastle.
Redcar Bears = 55
1. Ben Barker – 3, 2′, 3, 3, 2, 3 = 16+1
2. Ellis Perks – 2′, 1′, 2′, 2, 1, 0 = 8+3
3. Jason Garrity R/R 
4. Jonas B Andersen – 2, 3, 1′, 3, FX = 9+1
5. Charles Wright – 2, 2′, 2, 3, 1′ = 10+2
6. Tobias Busch – 3, 3, 1′, 0, 3 = 10+1
7. Mitchell Davey (G) – 0, 1′, 1, 3 = 5+1
8. Gavin Parr – DNR
Ipswich Witches = 37
1. Danny King – 1, 1, 1′, 3 = 6+1
2. Cameron Heeps R/R 
3. Kevin Doolan (G) – R, 0, 0, 0, 0 = 0
4. Kyle Newman – 3, 1, 2, 2, 2, 1′ = 11+1
5. Rory Schlein – 3, 1, 6^, 3, 0, 2 = 15
6. James Sarjeant (G) – 1′, 0, 0, 0, 2 = 3+1
7. Connor Mountain – 2, 0, 0, 1′ = 3+1