Stewart the star as Bears win
Young Aussie Jordan Stewart was the star of the show, as Redcar 'ECCO Finishing Supplies' Bears defeated the Glasgow Tigers 48-42 on Thursday night at the Media Prima Arena.
The young Aussie had by far his best night as a Bear, scoring 16+1 in a match winning performance. Included in that score was a superb heat 13 winner over Chris Harris, who threw absolutely everything he could at Jordan but there was just no way past. Jordan was well supported by the Andersen brothers in particular, with Mikkel scoring 9 and Jonas scoring 7+2.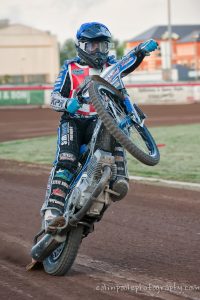 It was a topsy turvy meeting, with plenty of close, exciting racing. The Bears led by 6 early in the meeting, but two successive 5-1s gave Glasgow a narrow lead after 7 heats. The Bears then hit back with two successive 5-1s of their own and never looked back, making sure of the win in heat 14 with Stewart's third win on the bounce.
The impressive Claus Vissing top scored for Glasgow with 11+1, with Richie Worrall getting 10+2 and Lewis Kerr 10. The two sides meet again tomorrow night at Glasgow, with a 7:30pm start.
Redcar Bears = 48 
1. Ben Barker 2, 1, 2, 0 = 5
2. Matej Kus 1′, 0, 3, 0 = 4+1
3. Jonas B Andersen 2, 2′, 2′, 1 = 7+2
4. Mikkel B Andersen R, 3, 3, 1, 2 = 9
5. Tobias Busch 1′, 1, 1′ = 3+2
6. Theo Pijper 2′, 0, 2 = 4+1
7. Jordan Stewart 3, 2, 2′, 3, 3, 3, 0 = 16+1
Glasgow Tigers = 42 
1. Chris Harris 3, R, 3, 2, 1 = 9
2. Paul Starke R/R (JS 0, DW 1, CV 1, JS R = 2)
3. Claus Vissing 3, 2′, 1, 3, 2 = 11+1
4. Lewis Kerr 1, 3, 3, 1, 2 = 10
5. Richie Worrall 3, 2′, 1, 1′, 3 = 10+2
6. David Wallinger (G) 1, 1, 0, 0 = 2
7. James Sarjeant 0, Fx, R, R, R, 0 = 0
8. Dale Lamb DNR