Maximum man Garrity roars to victory!
Redcar SG Petch Bears new number 1 Jason Garrity roared to a 15 point maximum and first place in the Julie Lewis Memorial at the Media Prima Arena on Thursday night.
Garrity went through the card unbeaten and never looked like losing a race, with ex Bears captain Ulrich Ostergaard finishing second and Ty Proctor third after a run off with the impressive Tero Aarnio. The Media Prima Arena track held up very well after the heavy afternoon showers, and provided the good crowd with some excellent racing. Ben Barker struggled with mechanical issues all evening, but otherwise all Bears on display put in some impressive performances. Both Jonas B Andersen  and Richard Hall picked up two heat wins on their way to 10 point hauls, whilst Ellis Perks also impressed with his 7 point total.
Bears asset Jacob Bukhave also impressed with 9 points, and will surely have made some promoters sit up and take note with his performance. It was a successful night overall, with the Bears next in action next Thursday against a Russ Hodgson select side which includes the likes of Richard Lawson and Thomas Jorgensen.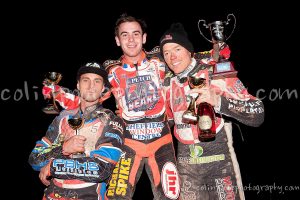 Scores:
Jason Garrity – 15 (Max)
Ulrich Ostergaard – 12
Ty Proctor – 11 (+1)
Tero Aarnio – 11
Richard Hall – 10
Jonas B Andersen – 10
Theo Pijper – 9
Jacob Bukhave – 9
Ellis Perks – 7
Aaron Summers – 6
David Howe – 6
Matthew Wethers – 5
Ben Morley – 4
Ben Barker – 2
Danny Phillips – 2
Coty Garcia – 0