Bears in narrow win against the Bandits
Redcar SG Petch Bears continued their good form with a 49-43 win over the Berwick Bandits, but were made to work hard by a determined Berwick side at the Media Prima Arena.
The meeting stated well for the Bears, with two heat wins from Charles Wright helping the Bears to a 10 point lead after just 5 heats. Berwick dug in well however and battled their way back into the meeting with heat wins for the impressive Kevin Doolan and Steve Worrall. 
A heat 12 5-1 for the Bears eased the pressure somewhat, with Charles Wright and Ellis Perks continuing their recent good form, and gave the Bears a 10 point cushion once again. However, with Jason Garrity having to withdraw from the meeting due to flu the Bandits stormed back into the meeting with two successive heat advantages meaning going into heat 15 the meeting was on the line. A 5-1 for the Bandits would have resulted in a draw, and a 5-1 for the Bears would have meant 3 points for Redcar and Berwick with nothing to show for their nights work. Charles Wright rode a superb race to claim the win in a tense finale, however the excellent Nick Morris edged out Ben Barker to ensure the Bandits got a deserved league point for their efforts.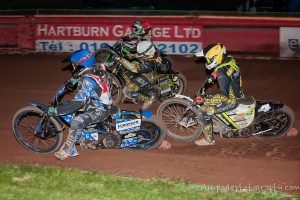 There is no home meeting for the Bears next week, with the Bears instead visiting Sheffield next Thursday. The next home meeting is against Workington on the 13th May.
Redcar Bears = 49
1. Jason Garrity (C) –  3,3,2,  =  8 (Withdrawn)
2. Coty Garcia –  1,0,2,  =  3
3. Charles Wright –  3,3,1′,3,3  =  13+1
4. Jonas B Andersen –  2′,1,2,1  =  6+1
5. Ben Barker  –  1′,2,2,2,1  =  8+1
6. Richard Hall  – 1,0,0  =  1
7. Ellis Perks  –  3,2,1′,1′,1′,2′,0  =  10+4
Berwick Bandits = 43
1. Nick Morris –  2,2,3,3,2  = 12 
2. Jye Etheridge  –  f,0,3,fex  =  3
3. Liam Carr  –  0,1,0,1  =  2
4. Kevin Doolan(C) –  1,3,3,3,0  = 10 
5. Steve Worrall (guest) – 3,4^,3,1  =  11^
6. Dany Gappmaier  – 2,1′,0,0,2′  =  5+2
7. Lee Payne  – f,ef,0  =  0