Bears fall to heavy home defeat
Redcar 'ECCO Finishing Supplies' Bears fell to their second successive home defeat, losing to a strong Scunthorpe side 54-36 on Thursday night.
On a tough night for the Bears, the away side got their noses in front after 3 heats and never looked back. The Bears only managed 4 heat wins, with German star Tobias Busch getting two of those on his way to a 9 point score. Ben Barker rode hard for his 8+3 score, with Matej Kus and Jonas B Andersen getting the other heat wins for the Bears.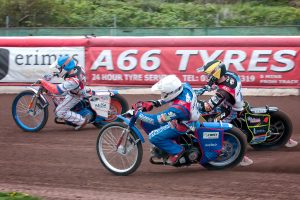 For Scunthorpe, guest Ricky Wells top scored with a excellent 13+1, whilst ex-Bear Jason Garrity had an interesting evening. He was involved in a clash with Barker after heat 6 had finished, whilst also being involved in the incident which somehow saw Jonas B Andersen excluded from heat 9. 
Bears promoter Kevin Keay was disappointed with the manner of the defeat:
It was an embarrassing defeat , far from happy with the riders inconsistency and we simply are not providing enough race winners. We will look at all our options over the next few weeks and see where we might improve all aspects of our performances both on and off track.
The Bears are next in action tomorrow evening away at Scunthorpe, this time in league action. Next Thursday sees the Julie Lewis Memorial meeting take place at the Media Prima Arena.
Redcar = 36 
1. Ben Barker (8.36) – 1′, 2′, 2, 2′, 0, 1 = 8+3
2. Tobias Busch (5.35) – 2, 3, 1, 3, 0 = 9
3. Jonas B Andersen (6.18) – 0, 2, X, 3 = 5
4. Mikkel B Andersen (5.20) – 2, 0, 0 = 2
5. Matej Kus (7.64) – 1, 2, 0, 3 = 6
6. Theo Pijper (4.68) – 2, 0, 1, 2 = 5
7. Jordan Stewart (5.20) – 1′, 0, 0, 0 = 1+1
Scunthorpe = 54 
1. Ricky Wells (G) (8.68) – 3, 3, 3, 1′, 3 = 13+1
2. Stefan Nielsen (5.53) – Fx, 1, 3, 2′ = 6+1
3. Josh Auty (7.10) – 3, 3, 1, 2, 2′ = 11+1
4. Jake Allen (6.50) – 1, 1, 0, 3 = 5
5. Jason Garrity (7.65) – 2′, 1, 3, 2 = 8+1
6. Danny Phillips (2.00) – 3, 0, 1, 1′ = 5+1
7. Gino Manzares (5.43) – 0, 3, 2′, 1 = 6+1